Hello! This is today's second post for Two Scoops Tuesday. Please scroll down for another new post from this month's Guest Designer.
A few weeks back my boys and I planned an impromptu trip to my home state (Iowa!) in 2 days. During the planning, I was asking my boys where they might like to go on our trip. My middle son, Sawyer, said that he wanted to go to the restaurant where they have an old gas pump that the guys on American Pickers would like. (Sorry if you don't know the show American Pickers!)
It took a minute, but then I realized the place he was speaking of was one of our favorite pizza places, Great Plains Sauce and Dough. YUM! No problem, buddy!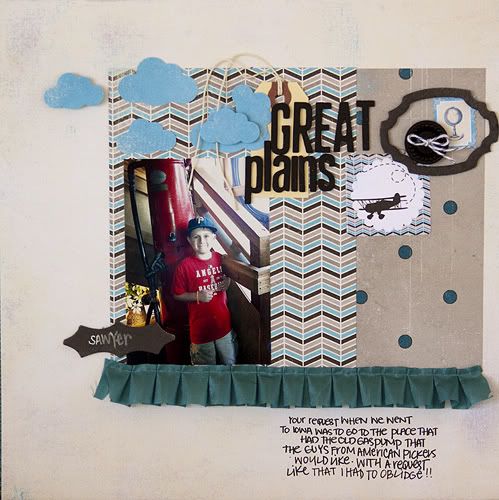 Here I used all AWESOME stuff from Authentique's Journey line, plus a couple of pieces of Maya Road chipboard and a length of May Arts ribbon! A little journaling and a title and I was quickly finished.
I love incorporating stories or things my boys say into layouts. Do you have any conversations or sayings you don't want to forget? Get them into a layout and share with us in the gallery!