ALTERED FISH BOWL

Materials: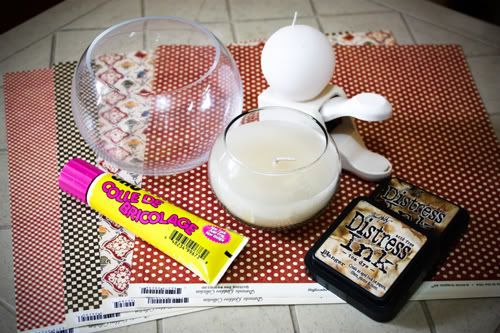 Fish Bowl (preferably the small ones)
Patterned Papers
1" Circle Punch
Distress Inkpad
Liquid Adhesive



Note:

if you do not have a circle punch, feel free to use a coin or any template that is close to an inch circle.



STEP 1


Choose the patterned paper that you would like to use. For this project, you can use a single pattern on the bowl or a multi-patterned one. Be experimental and start combining those patterns that we have from our kit to make your design more unique.



STEP 2


Once you have decided on which paper to use, start punching those circles out. I decided to use my 1" circle punch that will work well with the small fish bowl that I'll be altering.

Make around 50pcs of circles. Just add more if needed.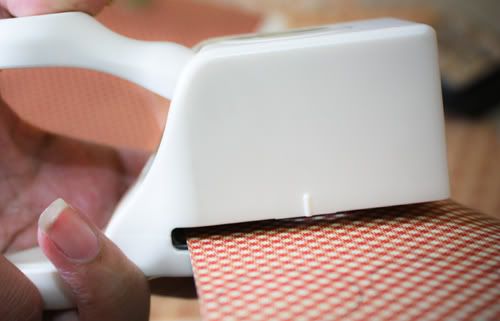 STEP 3


Distress the edges of the circle to add depth and dimension. This is NOT REQUIRED and would simply depend on your preference.






STEP 4


Starting at the top of the bowl, start adhering these circles slightly overlapping one another. I used a left-over-right sticking pattern. It simply means that the left side of the circle that i am sticking is the one overlapping the right side of a circle prior to it.

If you are using a 2 or more patterned paper design, adhere the circles alternately. Use your imagination to think of other pattern placements. Another suggestion is that you can stick the top half of the bowl with one pattern and the lower half with another.






STEP 5


After finishing the first row, do the same with the remaining rows but this time adhere it below the first row also slightly overlapping it. Do this until you have entirely covered your fish bowl.




If your last row is quite larger than the remaining space, just slightly fold the circle at the bottom and adhere the remaining part at the bottom of the bowl

You're done!!!



EXTRA STEP


Feel free to use this altered bowl as a candy container, candle holder, etc. You can also embellish it with stickles, liquid pearls and blings. Go crazy!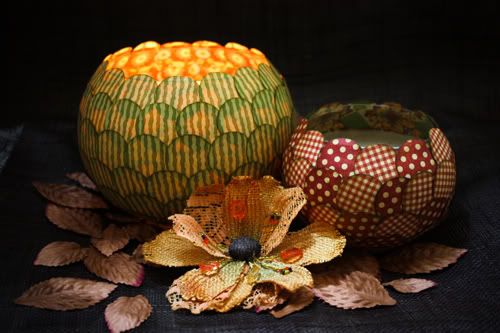 I hope this project tickled, if not poke, your imagination and creativity.



LG