Okay, we didn't want to share this with you but....
the new KI Memories Sheer Delights are HERE!
We drooled over these at the Summer Show
. These are so much fun and CUTE! The patterns are dreamy. Flowers, swirls,
houndstooth!!
They used these as the page for their 12x12 layouts, cards and even a mini album! I thought I got a picture of it but looking back through everything, its not there. They took one of these sheets and folded it to create a mini album. It had the metal binder rings holding it together. Very cute!
Yeah, we didn't want to share these. I opened the box last night and just kept looking at each of the patterns. Couldn't decide which ones I HAD to have.... so I got one of each!
We can't forget their new Holiday Line - Festive. Thats exactly what it is - festive. Fun colors and patterns - and even some Sheer Delights to match! And a few more Lace Cardstocks. More glitter.
And here's another 'Sheer Delight', our newest Design Team Member - Carrie Labani!
Her layouts are adorable! I can't tell if its her cute kiddo or her talent! She designed an awesome mini album using an acrylic circle and the October Afternoon Detours line of papers. You can see more pictures of it in
her Gallery
.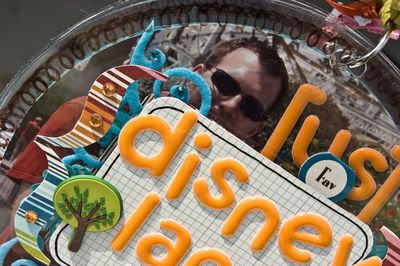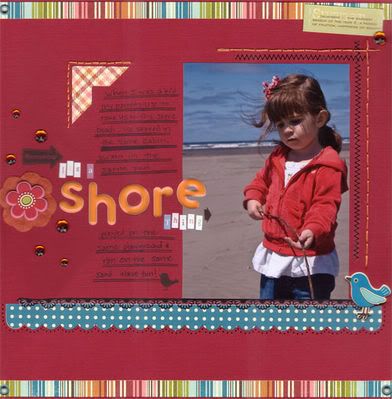 And checking out her blog, she used the Pink Paislee Topsiders to create a little chipboard mini. (
Scroll down to see.
) Those rubons are the Pink Paislee Fashion Rubons. What a great way to use those Topsiders!
Speaking of Carries' blog, do you check out the DT Blogs regularly? If not, you should. They are always posting cute ideas there as well as their Galleries. These girls buy stuff from the store (above and beyond what I give them to work with) and make the cutest things with them!
And here is more about Mrs. Carrie:

My name is Carrie Labani.
I live in Houston, TX. We recently just moved here from Washington state. It has been a fun journey so far but alot of changes.

I grew up in Poulsbo a small town across the water from Seattle,WA. When I was in highschool my older sister got me into scrapbooking. Ever since then I have just loved it! I love cooking and baking though too and like to sew on occassion. I met my husband while bartending at Outback and we have been married for almost 4 years. We love to travel and cruise and hope to have more opportunities to go in the future. I am a SAHM to our beautiful 2 year old little girl named Sydney who is our life. Right now we are just trying to get settled in to our new home and enjoy the new city we live in.
Contests/Publications:I really enjoy playing on different forums and have won various contests. A few of my pages and a mini book have been published in the ezine Ready, Set, Create.

One scrapbook product you can't live without. I cannot live without flowers. I love them. I need them. I buy them everywhere I go. :-)
When are you most creative and why? I think I am most creative in the evening after I know all the housework is done and dinner has been made. I like to sit down at my desk, turn some music on, break out the peanut butter M&M's (a must) and start scrapping.

3 random things about you: I love to snowboard and even worked a season at a ski resort. I have a weakness for Godiva dark chocolate covered strawberries. I love to watch football with my husband especially the Cowboys (I've been corrupted.)

A hobby you have other than scrapbooking I love to bake and cook. I am constantly trying new recipes and mixing things up. I especially like to make dessert and everytime we go to a friends house I always volunteer to bring something yummy. I have a major sweet tooth.
Describe your scrapbook style Fun, creative and Bold. I love colorful patterned paper, lots of embellishments and flowers. My passion is photography and strive to learn more about it!
Are you an organized scrapper or do you work in a mess? Generally I like to be organized and clean my desk off after every page but sometimes if I am time pressed to get something done it turns into a total mess.
If you could be anywhere right now..... I would be laying on the beach of Tahiti. I have always wanted to go there and stay in one of the over water bungalo's where you can swim in the crisp clear water right off your balcony. Someday...he did promise me we could go for our 5th anniversary though!

I am honored to be designing for Erica. She has such a great store (all the new fun things) and her design team is awesome. I can't wait to get to know you all.
(hey, a girl after my own heart - CRUISING!! One of our favorite things to do! We can't wait until our next one -
to Alaska.)