My husband was off last week so we got to spend a lot of time together. He helped me fill orders and listened to me get excited over the boxes of new product that would arrive. Then he helped me take everything to the warehouse. Lots of fun. Unfortunately, I didn't get to create much but its back to business this week.
And last Friday, I had a chance to volunteer in my friends store. I realized some of the things I miss owning an online store. I don't really get to know my customers, I don't know their faces or their stories. There were people in the store that I know from shopping there or hanging out there. Some I've even taken classes with. I the last year, I've been so busy with the business that I haven't taken a class there. I miss that! So it was even more fun that I was there the night of a class. The energy was high, even after a long day at work for these women.
Candice Carpenter
taught the class. If you aren't familiar with her work, she designed for Autumn Leaves at one point and has her own little kit club -
Peacoats and Party Hats
! If you like vintage, you'll love this site! Lots of crepe paper and yummy things!
She taught 3 layouts using a lot of the Cosmo Cricket Haunted line with her own Candice flair thrown in. She taught everyone how to make these cute crepe paper bows. There is a tutorial on her blog. I'm so glad my friend needed help that night. I got to see the other side of owning a store!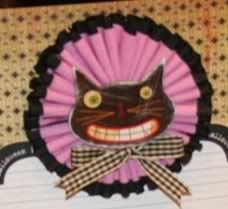 Candice and her mom always bring cupcakes or other goodies to each class. And there is usually glitter floating around everywhere!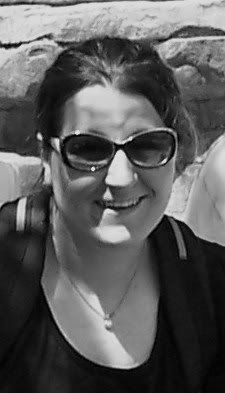 Mandy Koeppen - Hastings, Michigan

I'm a 26 year old Stay at home mom. I live in Michigan with my husband Louis and 3 children Teagan, Mavrick, and Avery .

Contests/Publications: Ready,Set,Create Magazine:Aug/Sept 2006 issue,"Happy" ScrapStreet.com Magazine:September 2006 issue and also a cover finalist,"Miracle" Legacy Magazine Feb/March 2007 issue "Moments Like This"

One scrapbook product you can't live without: 7 Gypsies 97% complete stickers

When are you most creative and why? Right before deadlines or contest entries because I am really creative under pressure sounds crazy but some of my best work has come at these times.

3 random things about you: I'm not a morning person.The color green makes me happy.I love to laugh and make others laugh.

A hobby you have other than scrapbooking: Photography is my other hobby. To be honest I think I love taking pictures more than scrapbooking.

Describe your scrapbook style: I'm kind of all over the place right now. I don't think I have a set style. Sometimes I like it very simple and quick other times I like a little funky freestyle.

Are you an organized scrapper or do you work in a mess? I would love to think I am an organized scrapper. I have a great place to create but it tends to be a mess my hubby says. I like things to be out so I can see them while I'm in my creative process.

If you could be anywhere right now..... On the coast day dreaming in the sand.

I enjoy hanging out with my family, fishing, camping@ the lake, shopping and raising Autism Awareness for my Dude Mav.

Here are some of Mandy's creations from last months Gallery. She used a lot of the Rouge de Garance products and the lace cardstock from KI.